"When the entrepreneurial journey
leads you to go all in to help create the
economic and cultural changes the
world needs, words can't describe its
worth. I wish it for every woman called
to entrepreneurship."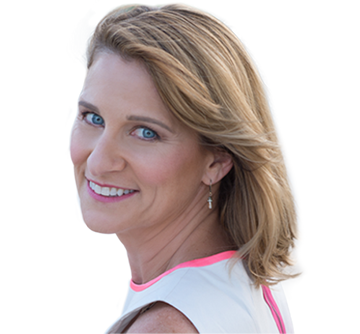 About Stephanie
Stephanie is an authentic voice for women entrepreneurs. She has been walking the walk of a successful entrepreneur for over twenty years. After launching a career in corporate America with Accenture, she found her true calling as co-founder and CEO of Care.com HomePay (previously Breedlove & Associates), the nation's largest and most comprehensive household payroll and tax firm. Her startup grew to national leadership, was later acquired for more than $50 million, and plays a vital role in the quality and professionalism of the in-home care industry.
Breedlove and her husband founded and self-funded their entrepreneurial endeavor with no prior experience running a business. During the journey of building a company, she also built a life that integrated family and business as complements, not competitors, to one another. To create the life she desired, she often found herself at major crossroads—the kind that alter the direction and outcomes of life and require you to go all in to get to where you want to go.
Stephanie's deep experience coupled with her rare ability to combine scale, profitability, and quality through value-add, long-term strategies has made her a sought after mentor, business expert, thought leader, and speaker. Stephanie and her firm have been recognized as:
Austin American Statesman's Top Work Places
Austin Business Journal's Best Places to Work
Greater Austin Business Awards Finalist for Executive Leadership
Greater Austin Business Awards Finalist for Superior Client Service
Stephanie is truly ahead of her time, offering a lifetime of example for entrepreneurs striving to answer the calling and build growth businesses that are successfully integrated into a fulfilling life. She is focused on paying it forward to help women entrepreneurs see what they can be, and her expertise has been showcased in Working Mother, The Economist, The Wall Street Journal, The New York Times, and more. She is author of
All In: How Women Entrepreneurs Can Think Bigger, Build Sustainable Businesses, and Change the World
, is an active angel investor, and is engaged with organizations that share her passion for strengthening entrepreneurship, such as The University of Texas McCombs School of Business, Forte′ Foundation, Central Texas Angel Network, and the Texas Governor's Council for Women. 
Click here to listen to Stephanie's interview on Ali Brown's Glambition Radio Show.
When Stephanie is not paying it forward, she enjoys time with her husband and sons, as well as hiking, golfing, and competing in sprint triathlons.
What Others Are Saying
When given a chance to work with Stephanie run, don't walk towards the opportunity. I was first drawn by the story of her tremendously successful company, Breedlove & Associates. She found a market need, developed a service founded on top notch service and delivered result after result for family after family.

Her ability to motivate her team and push the envelope of technological possibilities led me to partner with her on the mission we both share, namely establishing the highest standards for the domestic care industry.

Stephanie is an expert in the Care field, as she counsels countless business owners, advises government initiatives, and inspires dozens of female entrepreneurs. She does all this with grace, integrity, clarity of her voice, and power in her heart. I have been blessed to have her as a friend and a true inspiration.
Stephanie is that rare combination of true entrepreneur and leader. She has the desire and tenacity to roll up her sleeves to build great products from scratch and then scale a team by inspiring them with her vision and leadership. Whether it be disrupting established yet inefficient industries, taking on entrenched competition, or pushing her team to find better ways to solve customer needs, Stephanie has led from the front in creating new opportunities to move our business forward. And she has the unique ability to galvanize an entire organization to get behind her vision to tackle these challenges. These qualities make the organization better and ensure long-term profitability as Stephanie's award-winning teams follow her lead, deliver incredible service and products, and ultimately gain the trust of consumers.
Three words come to mind when I think of Stephanie, ethical, ethical and ethical. She embodies trust. Her business acumen is rich, her personality is warm and approachable, and her sense of responsibility drives her to above and beyond performance in everything she does. She is a great communicator, able to get on board quickly and think through challenges with a creativity that is rare for a "numbers person." I am lucky to know Stephanie and am even luckier that I have the privilege of calling her a dear friend.
I have had the pleasure of working with Stephanie Breedlove in many capacities over the past 15 years: board members, joint conference presenters, and as a long standing client of Breedlove & Associates. I cannot say enough about Stephanie. She is sharp, hard-working, innovative, collaborative, and creative. She carefully and thoughtfully approaches her work and is results driven. Her character is nonjudgmental, compassionate, trustworthy, and she has the highest ethical standards. She is a gifted speaker, always welcoming and very engaging to her audience. On a personal note, Stephanie is simply enjoyable to be with as she makes others feel empowered and happy.